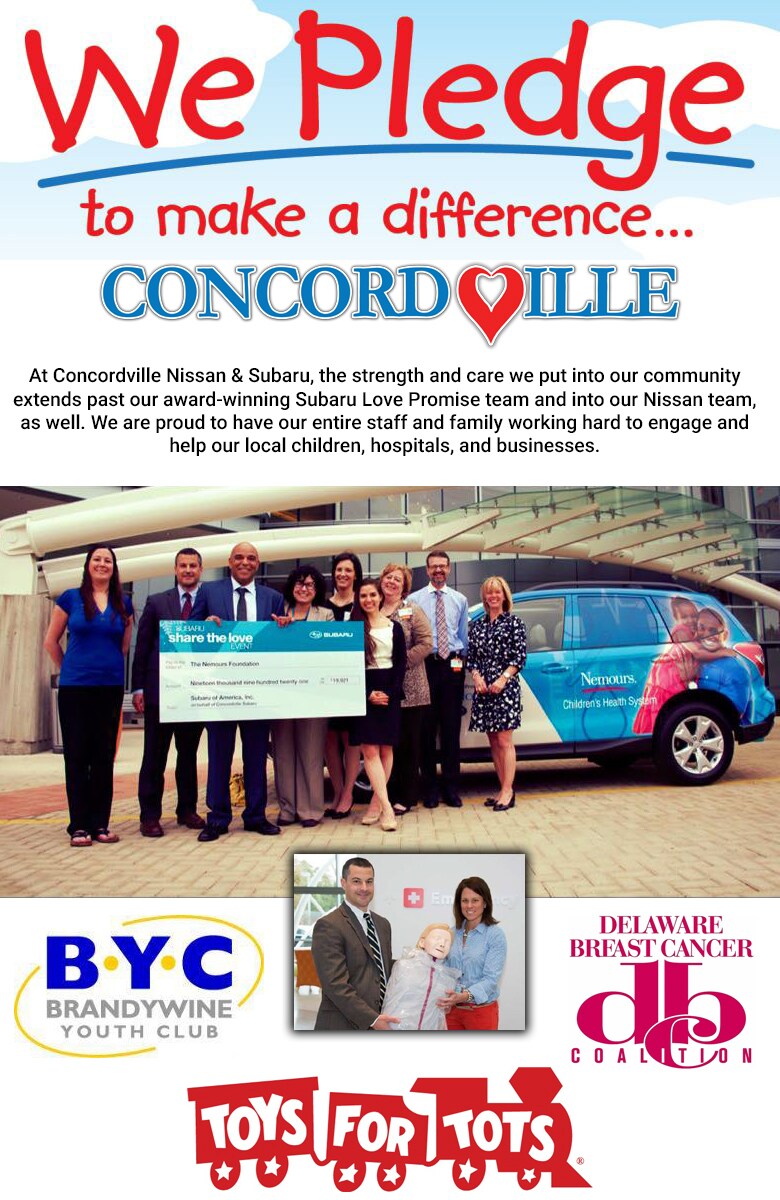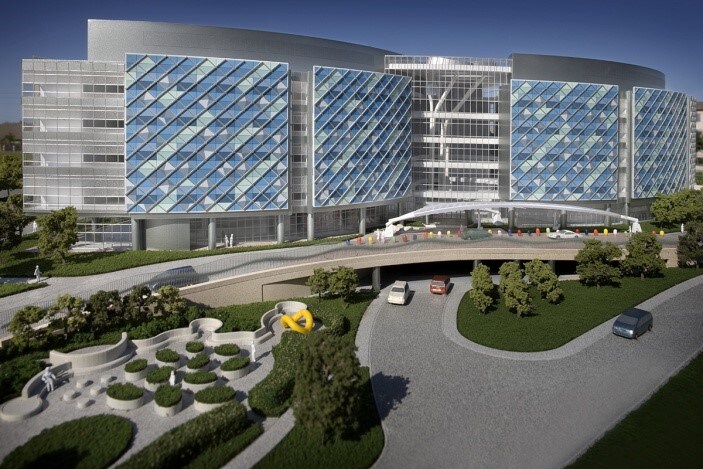 Concordville Nissan-Subaru is helping to build a healthier future for children in the Delaware Valley. Dealer-owners Peter Lustgarten and Stuart Lustgarten as well as all the Concordville employees are enthusiastic supporters of Nemours/Alfred I. duPont Hospital for Children. For every vehicle sold during holiday weekend sales, the hospital receives $200. Since 2006, the brothers have donated more than $80,000. The most recent gifts are satisfying a pledge commitment of $100,000 for the expansion of the Hospital, to open in 2014.
The Hospital's five-story expansion will feature all single rooms for young patients and comfortable overnight accommodations for parents. Each floor, organized into eight-bed "patient neighborhoods," will have playrooms, "pocket parks," and solariums to provide space for families to leave the intensity of the bedside and enjoy time together. The Emergency Department is expanding from 29 to 44 beds to handle a 52,000 annual visit volume. The soaring atrium lobby will have an interactive Discovery Wall, The Red Balloon gift shop, Safety Store, gelato shop and Einstein Bagels, along with a new cafeteria. Families will enjoy covered underground parking and a special Healing Garden, among other amenities.
"We want to support the Hospital because it supports the children of our employees, customers and everyone else in this community," says Peter Lustgarten.
The Hospital's partnership with Concordville Nissan-Subaru has been a strong one. During sale weekends, trained technicians from the Hospital's injury prevention program conduct car-seat safety checks and provide parents with information. The dealership has also helped make it possible for the Hospital to receive no-cost leases for two vehicles from Subaru Corporation. They are used in the Hospital's community outreach and trauma injury prevention programs.  This year Concordville Nissan- Subaru has chosen Nemours/Alfred I. duPont Hospital for Children as the local charity for the Subaru "Share the Love" event scheduled for November 21, 2013 through January 2, 2014.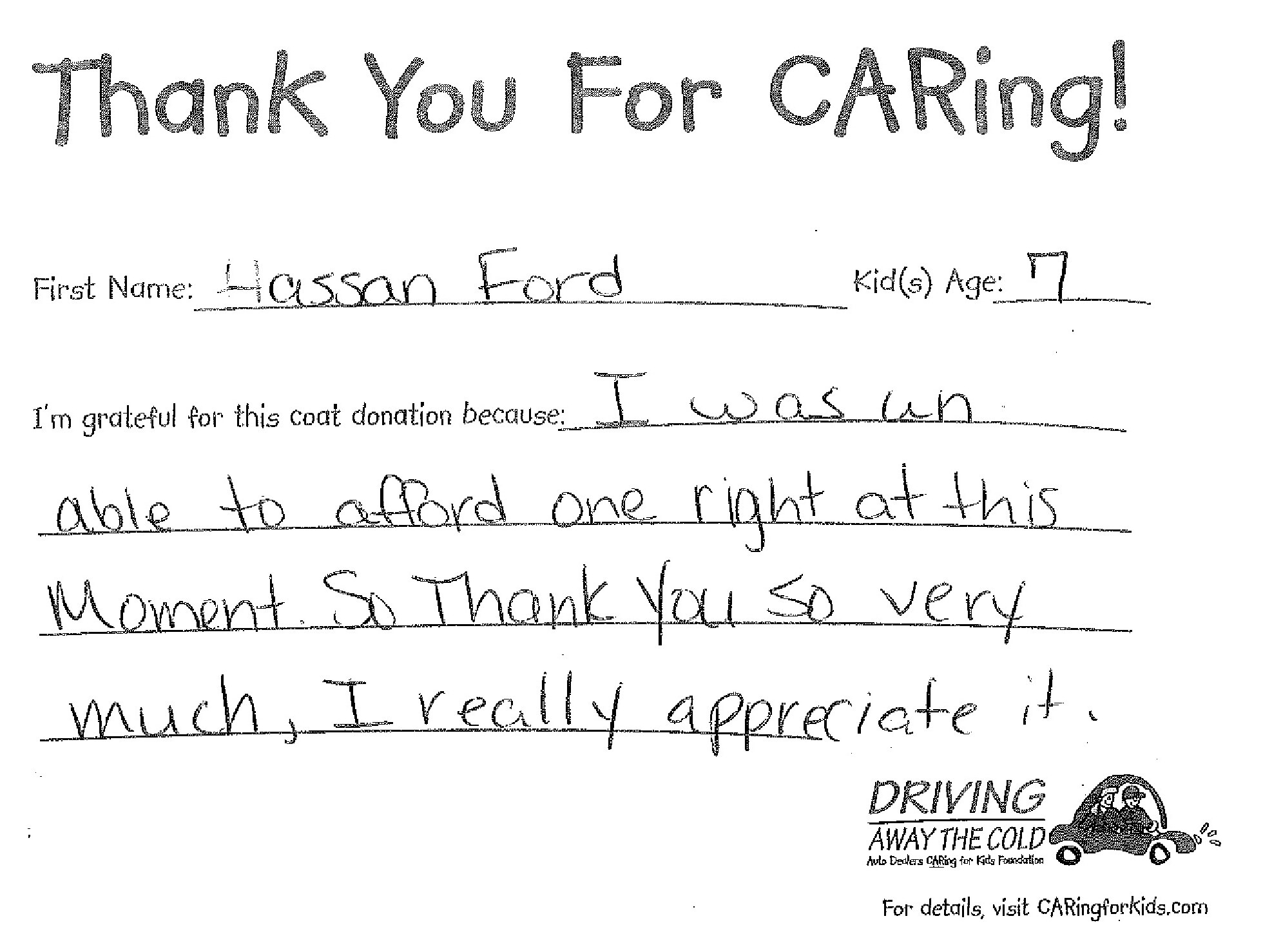 Concordville Nissan & Subaru Help Make 
the Winter a Little Warmer
The Auto Dealers CARing For Kids Foundation and Concordville Nissan & Subaru for 6 consecutive years (since 2008) has donated over 1200 new coats to assist Chester County migrant, immigrant and American children and youth who are in need.  The value of this donation in sum over the past 6 years totals close to $36,000 in winter outer wear for families who are underserved having just moved to Chester County and/or who struggle to make ends meet.  Through a number of organizations that participate in the COSECHA (harvest) network of service providers to include Penn State Chester County Extension 4-H Creating Community Networks, children and youth are kept warm and; parents and care givers are most appreciative.  Organizations that collaborate through this project include the Maternal Child Health Consortium Kennett Family Center, the Chester County Intermediate Unit Migrant Education Program, Penn State Extension Chester County, the Chester County Health Department, the Church of the Living Fountains in South Coatesville and Kindred House in West Chester. 
Since 2008, and each year to follow, staff of these organizations wait to hear when the date is of the arrival of the coats and, make every effort to adjust schedules to visit the Penn State Extension Chester County office (601 West Market St, West Chester) to pick up coats; some organizations stocking multiple boxes for distribution to families at a central location.  The feedback received is always positive, encouraging and so appreciative to the CARing For Kids Foundation and to Concordville Nissan Subaru.  This year, with added awareness in the newspaper of the coats, we received more phone calls following the distribution for families in dire need of assistance.  This tells us that this project has a significant impact in reaching out with care and warmth to the most under represented, at risk and financially stressed and; engaging those organizations serving these families.  A few comments from recipients include "  My  mommy lost her job and now I  know I will be warm this year."  And "I will be warm at the bus stop now." And "My kids will stay warm through the winter.  Thank you for such a nice gift!"  On behalf of Penn State Extension Chester County, 4-H Creating Community Networks and the COSECHA network of service providers, thank you very much for these gifts and for the opportunity each year to work with the CARing For Kids Foundation and Concordville Nissan Subaru in reaching out to children and youth less fortunate in our communities in Chester County.